About Crisis Services Canada
Crisis Services Canada is a partner in the 9-8-8 network. They run the National Hub that provides vital extra support and capacity to the service.
Crisis Services Canada is guided by several core goals and principles. They believe that partnerships are the key to increasing services and improving outcomes for individuals in distress, crisis or those who may be experiencing suicidal thoughts. Their staff and members share a commitment to best practices in suicide prevention and a common set of core values to ensure they help those in need.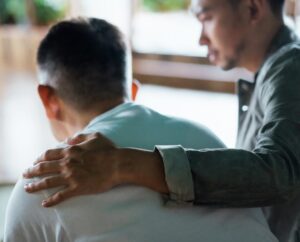 History
Crisis Services Canada (CSC) evolved out of the Canadian Distress Line Network (CDLN) – a national network of existing distress, crisis and suicide prevention line services that has been engaging members since 2002.
Over the years, the network formalized. In 2017, the organization incorporated under the name Crisis Services Canada and launched the Canada Suicide Prevention Service (CSPS).
In 2020, CSC partnered with CAMH and CMHA National to continue building upon the successes of CSPS and to bring additional support to the service. Demand for the service tripled in demand since the COVID-19 pandemic was declared in Canada, and the partners are working on expanding capacity to meet the needs of help-seekers across the country.
In 2022, CSPS rebranded to Talk Suicide Canada. When 9-8-8 launched, CSC became one of the 40 Partners that deliver the service. Its structure and focus is geared to strengthening regional service delivery and ensuring gaps in mental health and suicide prevention and support nationwide are addressed.
Key information
Board of Directors
Eva Serhal – Chair
Karen Letofsky – Past Chair
Chanta Baier
Damian Jankowicz
Staff
Stephanie Carter – Interim Executive Director